While every situation is different, there are at several important things to consider when you experience an accident. By taking the time to think about them in advance, you can save yourself a lot of time and trouble. Follow the outline in this article from State Farm and learn what to do after a car accident.
Steps for Managing an Accident
1. Safety First
If the car accident is minor, move vehicles out of traffic to a safe place.
Shift into park, turn off your vehicle, and turn on the hazard lights.
Use cones, warning triangles, or flares for added safety, if you have them.
2. Get Help
Check for injuries; call an ambulance when in doubt.
Call the police, even if the accident is minor. A police report can be invaluable to the claim process and help establish who's at fault.
3. Collect Information
Gather information from others involved in the accident.

Drivers and passengers: names and contact information
Vehicle descriptions (make, model, year)
Driver's license numbers
License plate numbers
Insurance companies and policy numbers
Eyewitnesses: names and contact information
Accident scene location and/or address
Police officer's name and badge number.

Take photos of all vehicles involved and the accident scene, if it is safe to do so.
Do not sign any document unless it's for the police or your insurance agent.
Be polite, but don't tell anyone the accident was your fault, even if you think it was.
4. File a Claim
You can start the claim process immediately at the scene and add details when things are calmer.
Notify your insurance agent as soon as possible.
Be Prepared – Just in Case
Walker Smith reminds you to be prepared. Now is a good time to review your insurance policy and make sure you have your insurance cards.
Learning what to do after a car accident is important. Later, as you begin the process of car repair, experience is also important when it comes to making a decision to get your body work done. Choose a shop that has been business for a long time and that will be there for years to come if you have any issues.
Car accidents happen. And when they do, call Walker Smith in Snellville for professional collision and body repair work and more!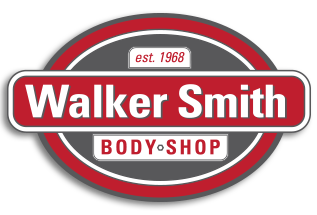 Walker Smith is your full-service maintenance, paint and auto body shop in Snellville GA. We're the auto body shop Snellville calls first. We'll make your car look like new.